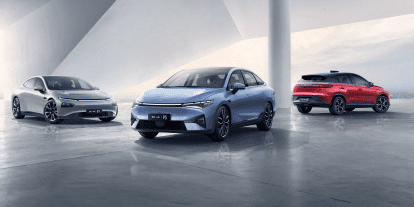 Shares of XPeng Inc. rallied Thursday, after the China-based electric vehicle maker reported a narrower-than-expected first-quarter loss and revenue that rose sevenfold to beat forecasts, with deliveries expected to rise to another record.
The stock
XPEV,
-0.68%
bounced 2.5% in premarket trading, after closing Wednesday at a six-month low. The stock had tumbled 21.9% amid a 10-day stretch through Wednesday in which it declined nine times.
The net loss widened to RMB786.6 million ($120.1 million), or RMB0.99 (15 cents) a share, from RMB649.8 million in the same period a year ago. Excluding nonrecurring items, such as share-based compensation expenses and change in fair value on derivative liabilities, adjusted net losses widened to RMB696.3 million ($106.3 million), or RMB0.88 (13 cents) a share, from RMB644.8 million a year ago.
The average estimate of two analysts surveyed by FactSet was for an adjusted net loss of RMB797.6 million.
Revenue rose 616.1% to RMB2.95 billion ($450.4 million), beating the average FactSet estimate of RMB2.67 billion, as vehicle deliveries jumped 487.4% to a record 13,340. Revenue from vehicle sales grew 655.2% to RMB2.81 billion ($428.9 million).
Gross margin improved to 11.2% from negative 4.8% a year ago.
"The first quarter kicked off a great start to 2021 with a record-breaking vehicle deliveries notwithstanding seasonally slower demand for automobiles and the semiconductor shortage," said Chief Executive He Xiaopeng. "Our strong momentum in the quarter was propelled by our industry-leading full-stack autonomous driving technology, solid differentiated product strategy and our vision to lead Smart EV development and transformation."
For the second quarter, the company expects revenue to be between RMB3.4 billion and RMB3.5 billion, above the current FactSet average estimate of RMB3.30 billion, and sees deliveries of 15,500 to 16,000.
The stock has tumbled 42.2% year to date through Wednesday, while the iShares MSCI China exchange-traded
MCHI,
-1.20%
fund has slipped 3.7% and the S&P 500 index
SPX,
-2.14%
has gained 8.2%.
---
---