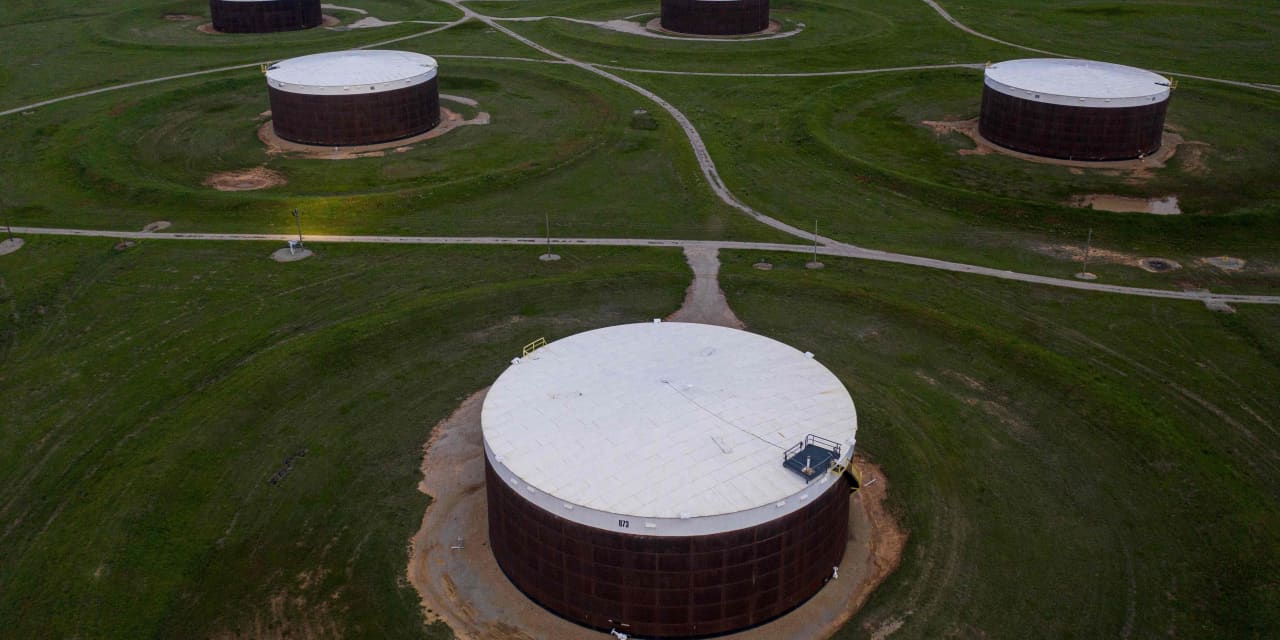 Oil futures touched fresh 13-month highs in Wednesday trading, as data from the U.S. government showed that weekly crude supplies edged higher on the back of a sharp decline in distillate inventories.
The inventory changes hinted at larger supply losses in the weeks ahead, amid energy production declines brought on by winter storms last week.
"Refinery runs dropped by 2.6 million barrels per day, with nearly 90% of that drop happening on the U.S. Gulf Coast amid the winter storm," said Matt Smith, director of commodity research at ClipperData, in emailed commentary. "This drop in refining activity outpaced the fall in oil production, which averaged 1.1 million barrels per day lower across the week."
"A significant drop in imports into the Gulf Coast, as well as into the Midwest, helped reduce supply," leading to a minor build, said Smith.
The Energy Information Administration reported Wednesday that U.S. crude inventories climbed by 1.3 million barrels for the week ended Feb. 19. That defied expectations for an average fall of 4.8 million barrels, according to a survey of analysts polled by S&P Global Platts. The EIA data also showed crude stocks at the Cushing, Okla., storage hub rose by 2.8 million barrels for the week.
The American Petroleum Institute on Tuesday reported a roughly 1 million-barrel increase.
Prices for oil had initially sold off after the API data, but rebounded "because the trade knows that in the coming weeks we will start to see the impact of the production and refining shutdowns," said Phil Flynn, senior market analyst at The Price Futures Group.
West Texas Intermediate crude for April delivery
CL.1,
+2.66%
CLJ21,
+2.66%
rose $1.29, or 2.1%, to $62.96 a barrel on the New York Mercantile Exchange. It tapped a high of $63.32, the highest front-month contract intraday level since January 2020, FactSet data show.
April Brent crude
BRN00,
+2.82%
BRNJ21,
+2.86%
was up $1.58, or 2.4%, at $66.95 a barrel on ICE Futures Europe, with prices also trading at their highest since January of last year. The most active May Brent contract
BRNK21,
+2.82%
added $1.66, or 2.6%, to $66.14.
The EIA also reported that gasoline supply was "virtually unchanged," while distillate stockpiles were down 5 million barrels for the week. The S&P Global Platts survey had forecast supply declines of 2.8 million barrels for gasoline and 3.5 million barrels for distillate inventories.
On Nymex, March gasoline
RBH21,
+1.90%
rose 1.9% at $1.894 a gallon and March heating oil
HOH21,
+2.03%
tacked on 1.9% to $1.9041 a gallon. The March contracts expire at Friday's settlements.
Oil futures ended on a mixed note Wednesday, with traders showing caution ahead of a key meeting next week of the Organization of the Petroleum Exporting Countries and their allies, together known as OPEC+.
Talks are likely to be tense, with Saudi Arabia more cautious about easing production curbs and Russia at the other end of the scale, said Craig Erlam, senior market analyst at Oanda, in a note. The prospect of a rise in U.S. shale output remains "remains an ever-present risk for the group of producers and current prices may be making them nervous."
Energy traders now await weekly data on natural-gas supplies and expect to see a big decline.
"Significantly colder-than-normal temperatures across the middle of the country led to record production losses, sizeable demand curtailments and extremely elevated cash prices," said Kevin Sakofs, an analyst with S&P Global Platts Analytics on Tuesday.
A survey of analysts from S&P Global Platts suggests that the EIA will report on Thursday a 333 billion cubic foot drop in U.S. natural-gas supplies for the week ended Feb. 19.
On Wednesday, the March natural-gas contract
NGH21,
-0.69%,
which expires at the end of the trading session, fell by nearly 0.5% to $2.866 per million British thermal units. The soon to be front-month contract, April natural gas
NGJ21,
-0.70%
lost 0.7% to $2.838.
---
---